Kitchen islands can be so versatile!
If you're planning on renovating your kitchen, take note of your needs and desires, and check out what the market has to offer before picking yours out. Here are some factors you should consider when putting together your dream island.
How will you be using your kitchen island?
It's important to consider the use you'll be making of your new kitchen island. Are you an aspiring chef that'll be using it as extra cooking space? Will it be used to help gain space when you have guests over? Is its destiny to be a homework station for the kids? More often than not, a kitchen island serves multiple purposes. So, know what you'll be using it for before making any final decisions.
Your kitchen island's size
Depending on your needs, your kitchen island's size can vary quite a bit. You'll also need to think about your kitchen's size and layout to see where your island can be installed. Take into account how far your appliances are from your sink; ergonomics are important when designing the space.
We suggest you work with an interior designer when it's time to plan out your kitchen. They'll know what's best for you, and what standard passageway distances are throughout a kitchen. For instance, the space between a kitchen island and your cabinets should be between 36 and 48 inches so that everyone can move around comfortably.
If you'd like to know more about the kitchen 'work triangle', take a look at our article discussing the advantages of working with a kitchen designer.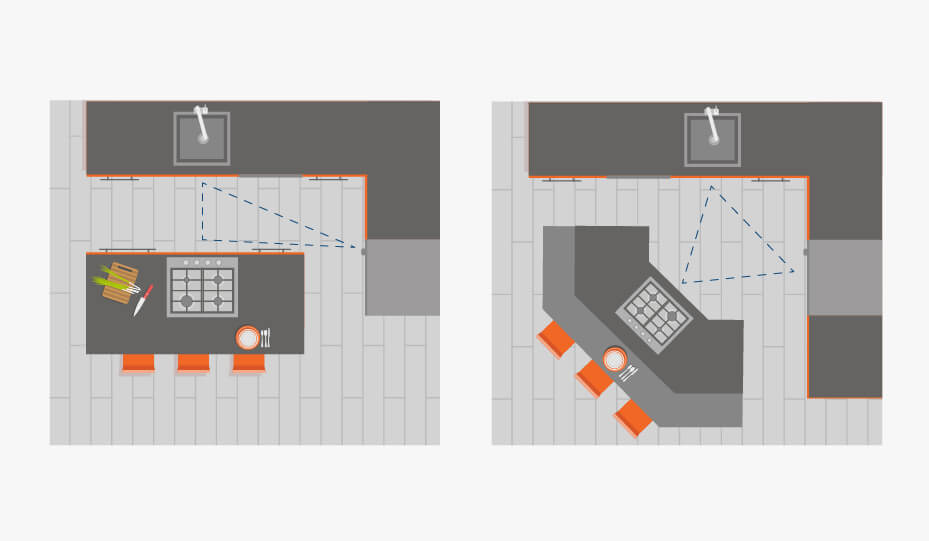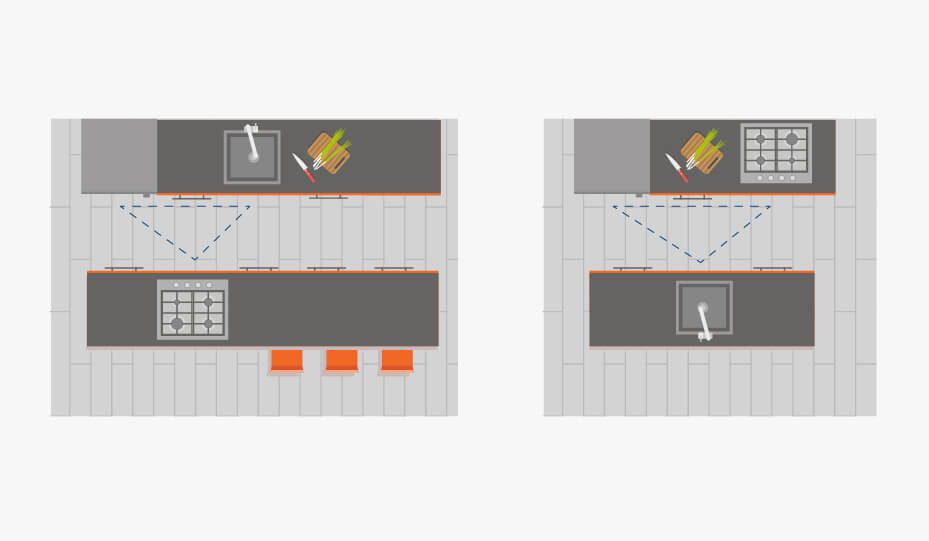 Kitchen island materials to consider when budgeting
The material chosen and the size of your kitchen island will surely impact your island's cost. The cheapest option out there is laminate for your countertops. However, there are many options available – each with their own set of pros and cons. In regards to aesthetics, though, laminate is the least interesting option on the market. Quartz and granite tend to be the most popular choices among consumers as they're highly durable and are both available in a variety of colours. If you're looking for a more industrial look, you can also opt for stainless steel. It's mostly used in restaurants due to its long lifespan and ease of maintenance.
Types of kitchen islands:
Moveable
Waterfall
Salvaged furniture
With adjoining table
With lunch counter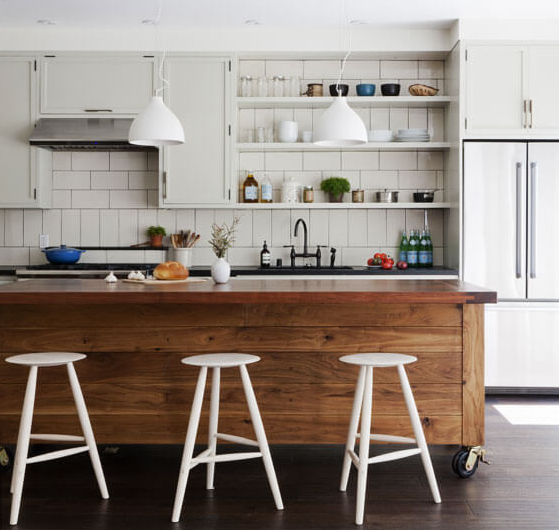 Moveable kitchen island
There are various kinds of moveable islands that exist. For instance, if your space is rather small, you can opt for one that has wheels underneath; it'll be easier to move aside when you have guests over. Moveable kitchen islands tend to be used in New York style lofts or industrial looking spaces. Industrial style kitchens would look great with over-sized wheels and a stainless steel countertop.
Waterfall kitchen island
Waterfall kitchen islands are a classic. Their countertops extend from the ground up, and all the way across to the other side. They're incredibly stylish and – as they're usually built with marble countertops – fit well with traditional-style kitchens, but also farmhouse-style ones. To add a unique touch to your kitchen, you can opt for coloured marble, an upcoming kitchen trend for 2019.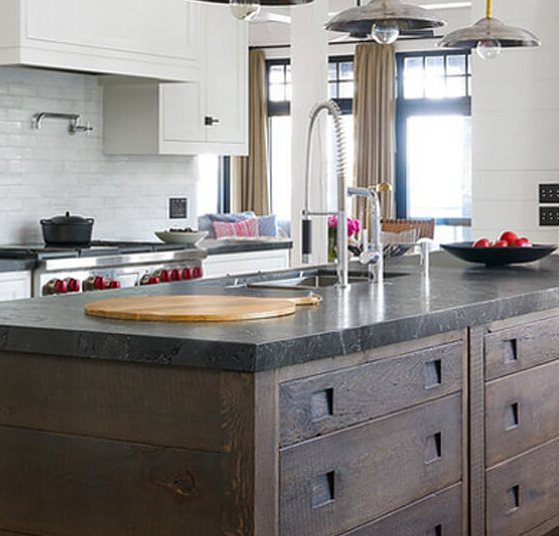 Salvaged furniture for your kitchen island
As an environmentally friendly – and trendy – option, why not re purpose an old piece of furniture for your kitchen island? You'll be extending the console or table's life and give your kitchen a unique look. Whether your space has a contemporary design or farmhouse look, a vintage looking kitchen island will be a great addition to the room!
A kitchen island with an adjoining table
As traditional dining rooms are beginning to disappear to create more open spaces, kitchen islands with adjoining tables are becoming increasingly popular. It's a great way to save space – especially in kitchens that are designed lengthwise.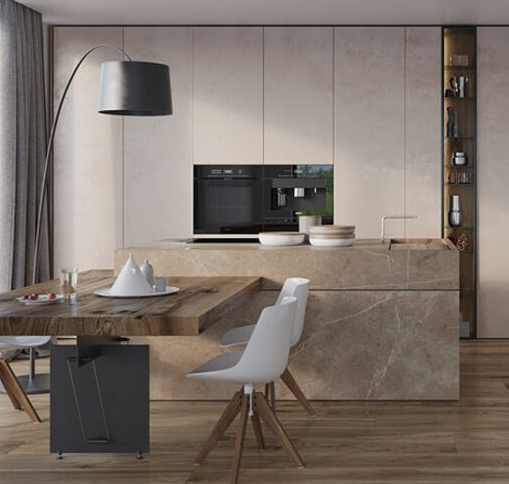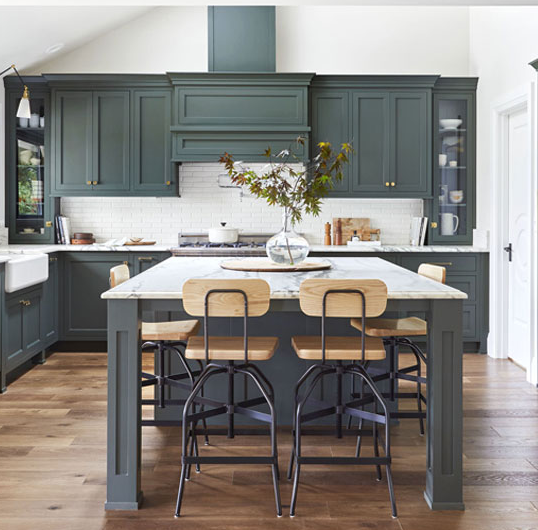 A kitchen island that doubles as a lunch counter
Most kitchen islands come with some seating space. It's always practical to be able to entertain while cooking, or watch over the kids doing their homework while preparing dinner. Kitchen islands with a lunch counter are a classic.
What kind of storage options should you go for?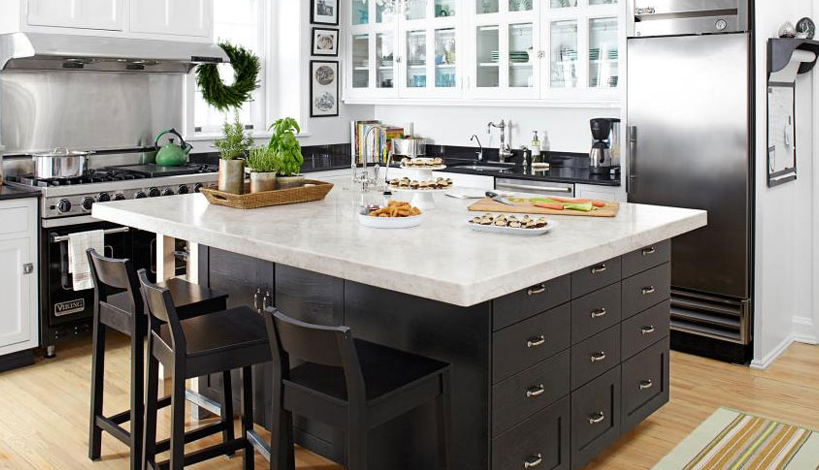 So many options are available when it comes to kitchen islands and storage. It truly depends on your preferences. Some prefer showcasing their beautiful dishes, elegant liquor bottles, or even recipe books. Hanging pots and pans above the kitchen island is also fairly popular, although it seems to be losing its appeal. As for hidden storage, drawers are gaining a lot of popularity & we can see why! It's much easier to store pots and pans in drawer rather then bending over and trying to reach them at the back of the cabinet, or even having to take out a stool to grab them up top. Wine lovers can even incorporate a wine fridge or a simple rack for their bottles.
Kitchen gadgets and innovative technology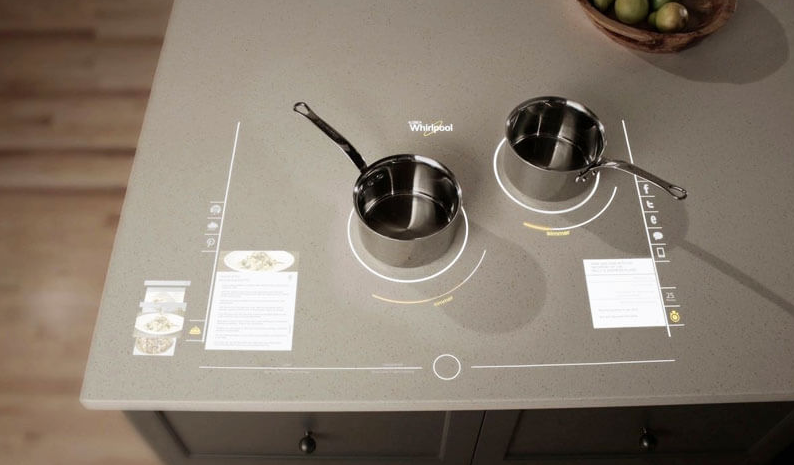 There's an endless amount of kitchen gadgets and innovative technologies out there to make our lives easier. For instance, if you intend on living a healthier lifestyle, you can install a water filter directly to your kitchen sink. No need to depend on your fridge for filtered water, nor the need to get a water cooler that just takes up space and uselessly wastes plastic with its 18L bottles. You can also get a wine cellar integrated to your kitchen island, or, if you're one to entertain quite often, the island's sink can have a built-in ice bucket. You'll save space on your island's countertop, all while entertaining in style.
As for future kitchen tech, there are many prototypes waiting to get on the market. For example, it's possible to integrate an induction hob directly into the counter space that would be invisible to the naked eye. It would only activate when a pot or pan is placed atop it; eliminating risks of getting burned. You'd be able to cut your veggies directly on this countertop, the kids can do their homework, and the surface can also display your recipes if need be. This innovative technology will essentially maximize your island's workable space.
Keeping in line with the futuristic style, if you have a cooking surface on your island, you can opt for a retractable range hood as opposed to one hanging above your head. It won't take up much space and will keep your kitchen looking clean and uncluttered. If you're more tech-savvy, think about getting electrical outlets installed directly into the kitchen island. They'll be practical if you want to charge your phone or laptop.
Kitchen island lighting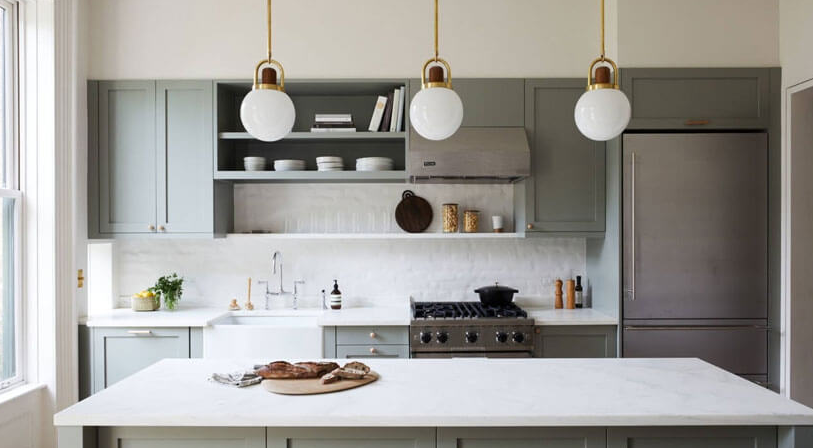 As your kitchen island is most likely going to be the focal point of your kitchen, you'll want to light it up adequately. Suspended lighting tends to be chosen for kitchen islands as the light fixtures can come in many different sizes, shapes, colours, styles, etc. You can therefore find one that will nicely complement the kitchen's focal point!
More minimalist/Scandinavian style kitchens can have rectangular shaped lighting fixtures to blend in with the decor. You can also opt for track lighting – which allows you to point spots in the direction you need. As for farmhouse style kitchens, their lighting fixtures tend to be round and have golden tones – reminiscing mid-century style.
Another great option can be lighting underneath the kitchen island.
Get in touch with us!
And book a Free Perfect Project Consultation today.
Let's have a chat and learn how to avoid the unnecessary hurdles that can occur during your project. There is no obligation to renovate with us after the meeting. You won't be tied into any contracts at this stage.